Pajala ist eine Gemeinde an der Grenze zwischen Finnland und Schweden mit Landflucht, Frau-enmangel und Innovationsbereit-schaft. (Bekannt geworden durch Mikael Niemis "Populär-musik in Vittula")
Ingold Airlines schlägt ein Ent-wicklungsmodell mit lokalem Engagement auf der Grundlage eines Vereins vor.
Zur nachhaltigen Vermittlung des Gedankens wird der Seniorchef Hans Ingold ins Spiel gebracht. Ein erfahrener Pilot und überzeugter Selfmademan.
Pajala is a municipality on the border between Finland and Sweden with a rural exodus, a lack of women and a willingness to innovate. (Made famous by Mikael Niemi's "Popular Music in Vittula").
Ingold Airlines proposes a deve-lopment model with local involve-ment based on an association.
The senior boss Hans Ingold is brought in to convey the idea in a sustainable way. An experienced pilot and convinced self-made man.
Pajala è un comune al confine tra Finlandia e Svezia caratterizzato da un esodo rurale, dalla mancan-za di donne e dalla volontà di in-novare. (Reso famoso da "Popu-lar Music in Vittula" di Mikael Niemi)
Ingold Airlines propone un model-lo di sviluppo con coinvolgimento locale basato su un'associazione.
Il capo senior Hans Ingold viene coinvolto per trasmettere l'idea in modo sostenibile. Un pilota esper-to e un convinto self-made man.
Pajala est une commune située à la frontière entre la Finlande et la Suède qui connaît un exode rural, un manque de femmes et une volonté d'innovation. (Rendue célèbre par "Populärmusik in Vittula" de Mikael Niemi).
Ingold Airlines propose un modèle de développement avec un enga-gement local sur la base d'une association. Pour faire passer l'idée de manière durable, le chef senior Hans Ingold est mis à con-tribution. Un pilote expérimenté et un self-made-man convaincu.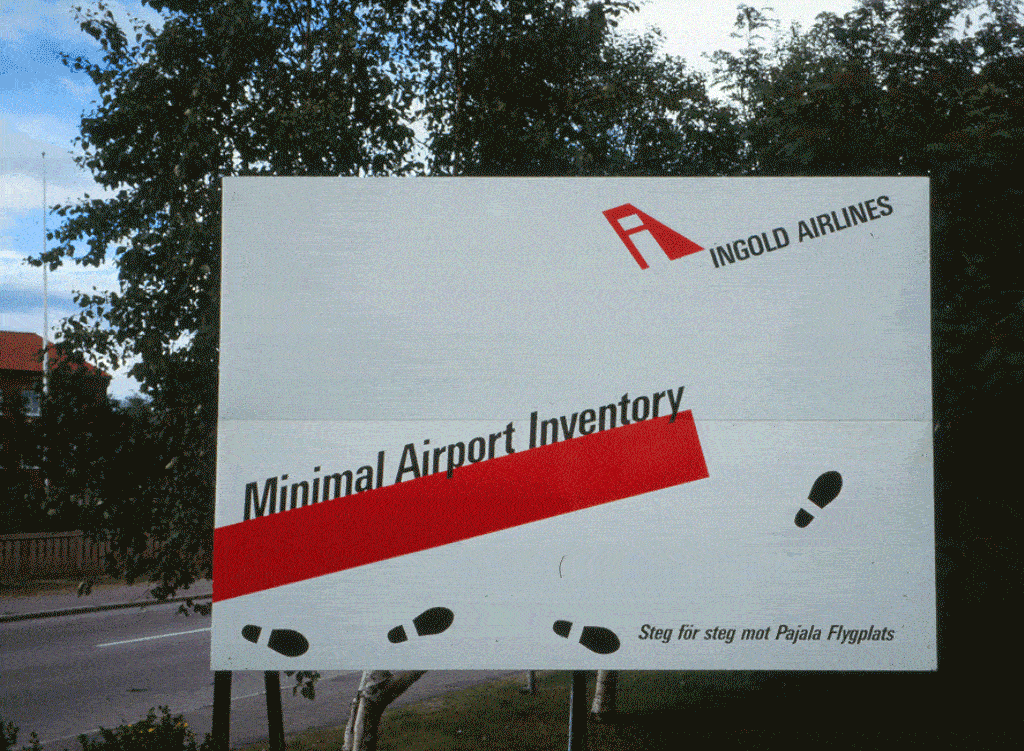 Minimal Airport Initiative 1989-1991
"One fine day"                         Ingold Airlines + Peter Andersson, VAVD Editions
Prof. Åke E. Andersson, Institute for Future Studies, Stockholm University
Gunnar Karvonen, Gemeinde Pajala
"one fine day"
Ingold Airlines + Peter Andersson, VAVD Editions
Prof. Åke E. Andersson, Institute for Future Studies, Stocjkholm University
Gunnar Karvonen, Pajala Municipality
"one fine day"                         Ingold Airlines + Peter Andersson, VAVD Editions
Prof. Åke E. Andersson, Istituto di Studi sul Futuro, Università di Stoccolma
Gunnar Karvonen, Comune di Pajala
"One fine day"                       Ingold Airlines + Peter Andersson, VAVD Editions
Prof. Åke E. Andersson, Institute for Future Studies, Université de Stockholm
Gunnar Karvonen, commune de Pajala
Kampagne anlässlich des Som-mermarktes für die Initiative zur Einrichtung eines Minimal Airports für ganzjährigen Flugbetrieb. Installation des Modell-flugplatzes auf dem Dorfplatz, 3-letter Code,  Gründung eines Aeroclubs,  um den Flughafen nach 20 Jahren erfolgloser Subventionsanträge in Eigeninitiative zu realisieren. Der reguläre Bedarfsflugbetrieb wird 1992 aufgenommen. Seit 1999 gibt es den Pajala Airport (PJA) mit einer Piste von 1420 Metern und einer täglichen Verbindung nach Lulea.
67°14'44''N 023°04'08''E
Campaign on the occasion of the summer market for the initiative to establish a minimal airport for year-round flight operations. Installation of the model airfield on the village square, 3-letter code, foundation of an aero club to realise the airport on one's own initiative after 20 years of unsuc-cessful subsidy applications. Regular on-demand flight opera-tions started in 1992. In 1999, Pajala Airport (PJA) was estab-lished with a runway of 1420 metres and a daily connection to Lulea.
67°14'44"N 023°04'08"E
Campagna in occasione del mer-cato estivo per l'iniziativa di crea-re un aeroporto minimo per le operazioni di volo tutto l'anno. Installazione del modello di cam-po d'aviazione sulla piazza del paese, codice a 3 lettere, fonda-zione di un aeroclub per realiz-zare l'aeroporto di propria iniziati-va dopo 20 anni di richieste di sovvenzioni non accolte. Le ope-razioni di volo regolari su richiesta sono iniziate nel 1992. Nel 1999 è stato istituito l'aeroporto di Pajala (PJA), con una pista di 1420 metri e un collegamento giornaliero con Lulea.67°14'44"N 023°04'08"E
Campagne à l'occasion du mar-ché d'été en faveur de l'initiative pour l'installation d'un aéroport minimal permettant de voler toute l'année. Installation du terrain d'aéromodélisme sur la place du village, code 3-lettres, création d'un aéroclub pour réaliser l'aéro-port de sa propre initiative après 20 ans de demandes de subven-tions infructueuses. Les vols régu-liers à la demande commencent en 1992. Depuis 1999, il existe l'aéroport de Pajala (PJA) avec une piste de 1420 mètres et une liaison quotidienne avec Lulea. 67°14'44"N 023°04'08"E